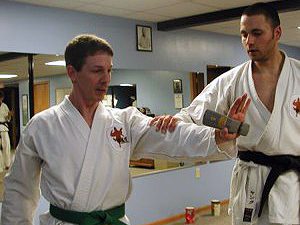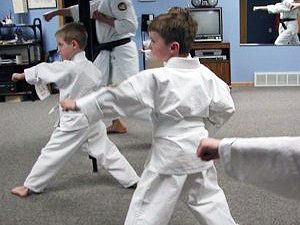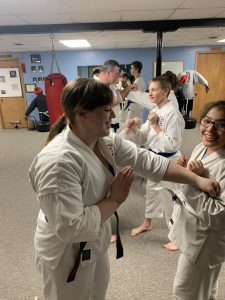 Occasionally people ask about our prices and are surprised to learn how low they are.  Often they note we charge (less than) half of other schools in the area.  Some people feel it must not be worth much if it is so "cheap".  You are welcome to pay more if you feel that way… However we have professional instructors (a couple professional teachers of young children by training/ day job) with many years of experience teaching and coaching preschool, elementary middle and high school, university and even adult education who bring those skills to bear in preparation and delivery of our classes.
We are passionate about our art and enjoy practicing and sharing these traditional styles with world-wide recognition.  The arts we practice are not a product, meaning we do not change with the wind or what is in the most recent popular martial arts action movie.  When coming to Menomonie Goju you will find solid traditional Okinawan martial arts taught in a way (to the best of our ability) they have been handed down over generations.  This does not mean there is not innovation or modern thought applied; Our instructors also have both traditional and modern medical training, (degree-ed Masters in Oriental Medicine / licensed massage therapist/ certified Acupuncturist / registered Yoga teacher) How is this relevant you ask.  Classes are taught with a high ability to explain the anatomical implications of the movements, prevent injury and follow in the footsteps of the founders.
We rejoice in students who are interested in a historical martial art and are looking for a principle based class, focusing on building skills for life and learning how to interpret what we are taught.  Of course we enjoy some fitness/ conditioning as a part of our program, but to the end of developing our ability to improve and execute our techniques. We like to have fun but do work to keep our mind on what we are doing, and why.  If you are interested in twice the program at half the price give us a call and check out our classes.
October we will work on falls…
During the month of October Halloween falls on the Thursday, we will no class October 31.  Many have enjoyed showing their costumes for class during the end of the month.  Dates for this to be acceptable are October 28 and November 4.  I always give "extra points" for martial arts inspired costumes, however your Gi is NOT a costume outside the dojo.
Testing this Monday night (September 30) good luck to all who are promoting.  Please attend if you are able to support your classmates.   We will do group photos after testing, it would be great to see your smiling face.
Our remaining Testing dates for 2019 will be November 7 and December 16.   Applications need to be turned in at least One week prior to testing date.  Plan accordingly if you are thinking of testing this year.
Schedule update:  Beginning, October 1 (this week) we will offer class on Tuesdays 5:35-6:20.  This will be our family style karate class same as Monday and Thursday nights.  We do not expect that students attend all classes but hope this additional offering will meet your needs and ease your schedule some.